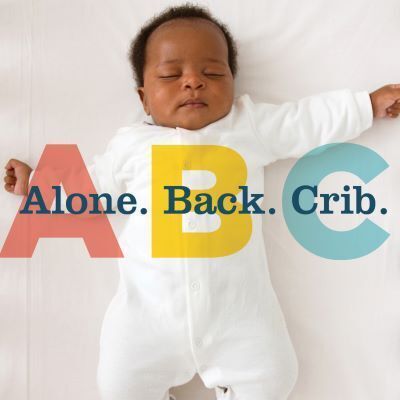 We are committed to educating Iowa families, healthcare professionals and childcare providers on SIDS and safe sleep. The Iowa SIDS Foundation provides presentations and trainings to various audiences and can tailor the information to fit your specific needs. To schedule a training, or find out more, please fill out the contact us form. 
A variety of educational safe sleep materials are available free of charge for Iowa families and providers. 
Safe Sleep Brochures:  Full color, 8 1/2 x 11" tri-fold brochure titled Safe Sleep: Reducing the Risk of Sudden Infant Death Syndrome (SIDS) and Other Sleep Related Infant Death.  This brochure offers basic SIDS definitions, an infographic showing a safe sleep environment, and bulleted points highlighting the American Academy of Pediatrics' risk reduction recommendations.  
Crib Cards: **New look in 2023! 4x6" colored cards for Iowa birthing hospitals to put in baby's hospital bassinet.  The card has a space for baby's name, date of birth, and birth weight.  The back features six basic tips to help baby sleep safely. 
ABC Safe Sleep Posters: This 11" x 17" color poster is perfect for exam room doors, childcare centers and public bulletin boards.  This poster highlights the simple ABC's to safe sleep with references to the safesleepiowa.org website for additional safe sleep info.  This poster is sponsored by the Iowa Department of Public Health, Department of Human Services, and Iowa SIDS Foundation. 
Tummy Time Poster: This 11" x 17" color poster highlights the developmental benefits of providing regular tummy time for babies.  In addition to positive brain development, tummy time plays a significant role in safe sleep by developing baby's muscles required to lift their head and for rolling over.  Tummy time IS more than playtime!  This poster is available to Iowa residents and providers through funds received from a Prairie Meadows Community Betterment Grant.
BACK IN STOCK! *2023 NEW* Safe Infant Sleep Field Guide: This spiral pocket reference book is for professionals to help guide effective conversations concerning safe sleep. The booklet provides information and data on SUID and includes conversations starters, directives, and suggestions for answering common comments and challenges surrounding safe sleep. Thank you to Iowa Title V and MICHEV for their funding support of this resource. Stock is limited and will be provided first come, first serve. As of September 2023 this resource is back in stock through funds received from Prairie Meadows Community Betterment Grant.