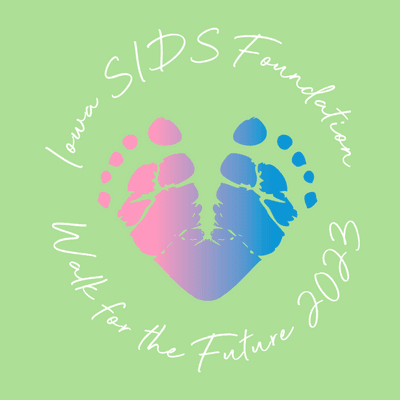 The 24th annual Walk for the Future will be held on Saturday August 26, 2023 in 7 locations across the state. Our annual walk is a statewide family event for SIDS and SUID families to meet or connect, communities to show support, and for each of us to remember and celebrate the lives of Iowa babies. This is an opportunity to support families while creating advocacy for SIDS, SUID and safe sleep. Funds raised at the annual walk are used for the daily operation of the Iowa SIDS Foundation, such as grief resources for newly bereaved Iowans, educational materials and presentations to Iowa healthcare and childcare providers, and to support SIDS/SUID research. 
Online registration is NOW OPEN. Register here. 
2023 Locations
Carroll

Swan Lake Education Center 22676 Swan Lake Dr. 

Registration 8:00am
Walk Time 9:00am

Cedar Rapids

Creekside Pavilion 4801 Golf St. NE

Registration 8:00am
Walk Time 9:00am

Dubuque 

Dubuque Arboretum & Botanical Garden 3800 Arboretum Dr. 

Registration 8:00am
Walk Time 9:00am

Fort Dodge

Oleson Park Shelter 1400 Oleson Park Ave

Registration 10:30am
Walk Time 11:30am

Le Mars

LeMars Municipal Shelter House 813 Park Lane NE

Registration 8:30am
Walk Time 9:30am 

Urbandale (NEW central location!)

Walker Johnston Park Giovannetti Shelter 8900 Douglas Ave

Registration 9:30am
Walk Time 10:30am

Washington

Sunset Park Corner of W. Madison St. & Avenue D

Registration time 8:30am
Walk Time 10:00am
If you would like your baby's name included on the Walk shirts, a consent form is required. Fill out the parental consent form and mail to our office or scan and email to ruth@iowasids.org. Forms are due by August 1, 2023 and must be completed by a parent or legal guardian. 
If you have provided a consent form in the past you do not need to send in a form again unless your wishes have changed. 
If your baby was on the shirt last year we have a form on file. Your baby will automatically be included this year. 
If you are unsure if we have a consent form on file for your baby or you would like to update your wishes and info, email ruth@iowasids.org
THANK YOU TO OUR 2023 GOLD LEVEL AND MEDIA SPONSORS! 
Help us make 2023 the best year yet! There are many ways to get involved. You can volunteer your time or skills, here's what we are looking for:
Volunteers to assist in planning at various locations
Assistance in securing silent auction and raffle items 
Corporate sponsorships
Volunteers to help facilitate Walk Day 
If you are interested in getting involved with a location near you contact casey@iowasids.org. If your business or a business you know is interested in becoming a corporate sponsor please contact us to discuss this opportunity! See below for sponsor benefits. 
• All Levels: All financial sponsors are recognized in our fall newsletter that has a circulation of over 950 families and professional providers. In addition, each sponsor will be acknowledged prior to the walk on our Foundation's Social Media Pages (Facebook, Twitter, and Instagram).
• BRONZE LEVEL- $250 and above: Your company name will be included in the walk registration (approximately 5000 distributed) and in state-wide news releases.
• SILVER LEVEL- $500 and above: Your company logo will be included in the walk registration and on the posters.
• GOLD LEVEL- $1000 and above: A company logo will appear in the walk registration, posters, and on the Walk t-shirts (1200 distributed statewide); we will also provide a link on our web site to your company web site.  Your company or business will be recognized on the Iowa SIDS Foundation's social media pages prior to and after the Walk.